We have been constructing rammed earth walls throughout Victoria since 1992. During that time, we have worked with many builders, designers and architects.
We have worked on domestic, commercial and landscaping projects across the entire state of Victoria.
If you are looking for an architect designer or registered builder, please contact us. We may have a practitioner we can refer you to in your area.
Service Area
We offer our rammed earth construction services throughout the state of Victoria. We can also build in the SA/NSW border areas.
Designing with Rammed Earth
Rammed earth is very versatile when it comes to design, we can build:
Off Form Finish:
With the 'off form' finish of rammed earth walls, once the formwork is removed the wall is finished. The natural earth tones and compaction layers are visible. This is what produces each walls unique character.
After the walls have cured (dried), we coat them with a clear acrylic polymer sealer. The sealer is dust proof and provides protection against water penetration. We also utilise a waterproofing additive incorporated in the material at the mixing stage. It eliminates the need for rendering or painting of the wall surface.
Re-sealing of walls will depend on the climate conditions of the project. Typically, external walls should not need re-application before 15-years. Internal walls should never need re-sealing, minimising maintenance.
Wall Thicknesses:
We can construct rammed earth walls to any thickness, with a minimum thickness of 200mm. External load bearing walls are generally 300mm, and internal non-load bearing walls are also generally 300mm. However, internal walls can be constructed at 200mm where the design is tight for space.
Insulated rammed earth walls are thicker. They start at 400mm for R2.5, yet the thickness will depend on the level of insulation and individual project requirements.
Finishing heights:
Generally, wall heights for sills and tops of walls are in 300mm vertical increments. The construction of walls outside of these increments may incur additional costs, due to the nature of the formwork.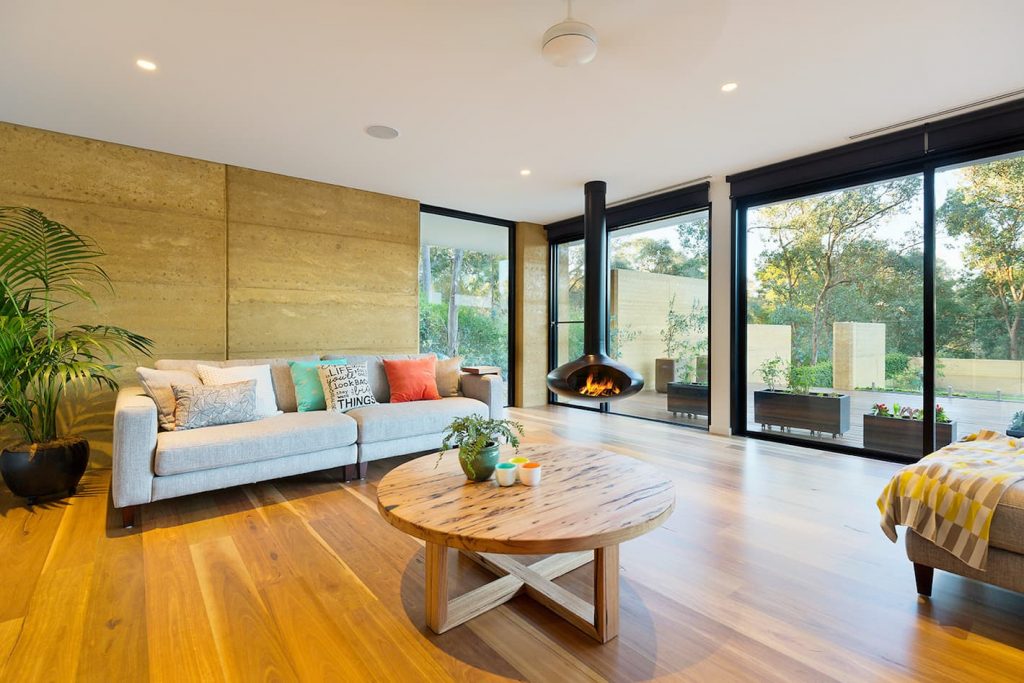 Considerations for designing with Rammed Earth:
The information below may be helpful when deciding where to use rammed earth in your project.
The features and benefits of using rammed earth in different areas of a project:
Aesthetics and natural unique finish – adds value to a home and client satisfaction
Soundproofing – adds privacy and enjoyment of living spaces to different areas. This allows more design flexibility.
Acoustics – being a solid mass medium sound doesn't bounce off walls. Music and entertainment systems have a higher quality of sound for client satisfaction.
Fire resistance – Can be used for partition walls between units etc. where fire rated walls are required. It can also be used for external walls requiring a high fire rating (Bushfire Attack Level; BAL)
Termite resistance – no extra termite treatments required for our walls.
Thermal properties (storing heat/cool) – saves energy and costs on heating and cooling. It also makes the home a more comfortable living environment.