Rammed Earth Enterprises have been specialising in rammed earth wall construction since 1992. We have worked with many architects and are happy to quote on projects of any size. Below is a PDF including technical information about our rammed earth construction. Please contact us if you have any other technical information questions, or would like to discuss your project.
Technical Data
Wall Thicknesses & Heights
The standard thickness of rammed earth walls is generally 300mm. In instances where niches and recesses are required for fireplaces, heater boxes etc. walls can be constructed to alternative thickness as required by the project.
The minimum structural thickness for load-bearing earth wall is 250mm. And, for a non-load bearing walls is 200mm. Below is a table detailing the minimum thickness and insulation – R ratings for rammed earth, structural and non-structural. These are minimums to achieve R ratings. Depending on wall heights and individual project specifications, walls can be built thicker.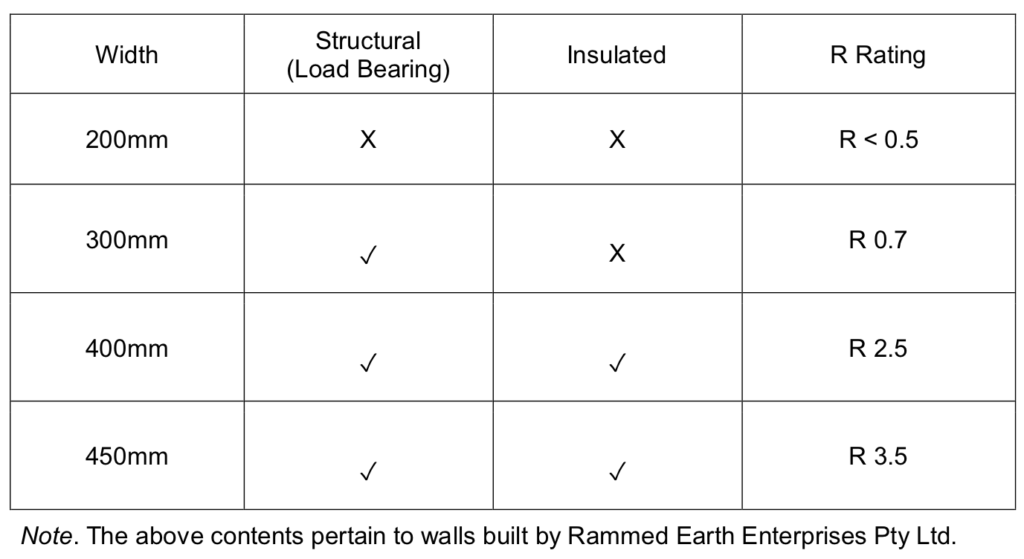 During the design phase it is important to ensure that vertical wall increments are in 300mm vertical increments- for example: windowsill heights, door and window head heights and wall top heights. There are no increment limitations for raked wall tops.
Corner Chamfer Details
The standard chamfer is 450/50mm at:
Wall ends
Window openings
Door openings
Windowsills
Electrical and Plumbing
Electrical conduits and wall boxes are rammed into the wall at locations where power-points and light switches are required.
Conduits are also placed into the wall to allow plumbing pipes to be inserted where required. Where an area is to be tiled over or hidden by joinery, plumbing pipes and electrical conduits can be chased into the wall.
Openings
To construct rammed earth over doors or windows, we utilise engineered T-Bar lintels. These are placed over the opening during ramming to support the earth above.
Where recesses are required in walls, formers/block-outs are placed into the formwork set up and soil is placed and compacted around them to produce the required opening or shape in the wall.
Roof Tie-Down System
In the top 600mm of the wall metal rods are inserted during compacting to provide a tie-down system for a timber top plate, this is for securing the roofing structure (see below).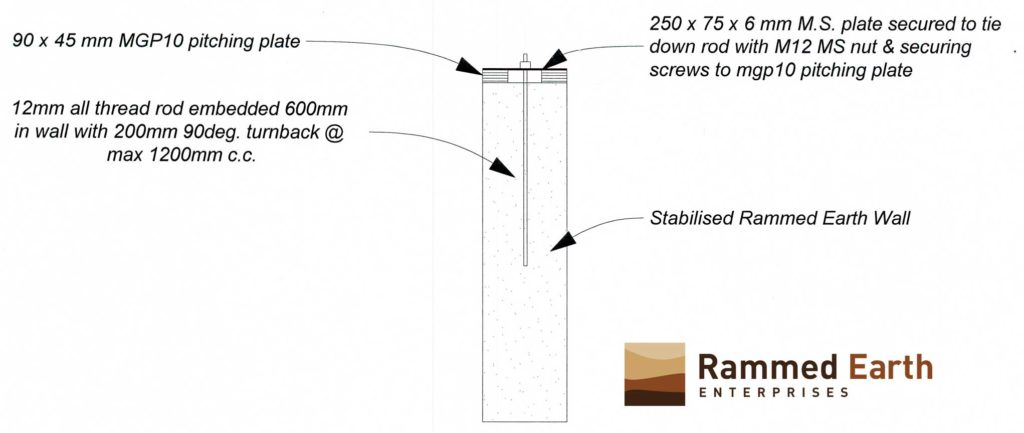 Structural Steel
T-Bar Lintels: The horizontal of the T-Bar should not exceed 200mm (width) in a 300mm thick wall.
Structural Columns: Placement of structural columns should be avoided in rammed earth walls where possible. This reduces the risk of walls developing fractures where columns are embedded.
General Details
Damp-proofing and bonding of Rammed Earth to the Slab
Bondall Silasec slurry is applied to the slab where the wall is to be built, prior to the first earth compaction layer.
Concrete slabs and footings are designed for articulated full masonry as per
NCC 3.2.5.
No slab rebate is required.
Standard detail of Rammed Earth to Eave Finishes (trusses, top plate, soffit, flashings etc.) detailed in the diagram below.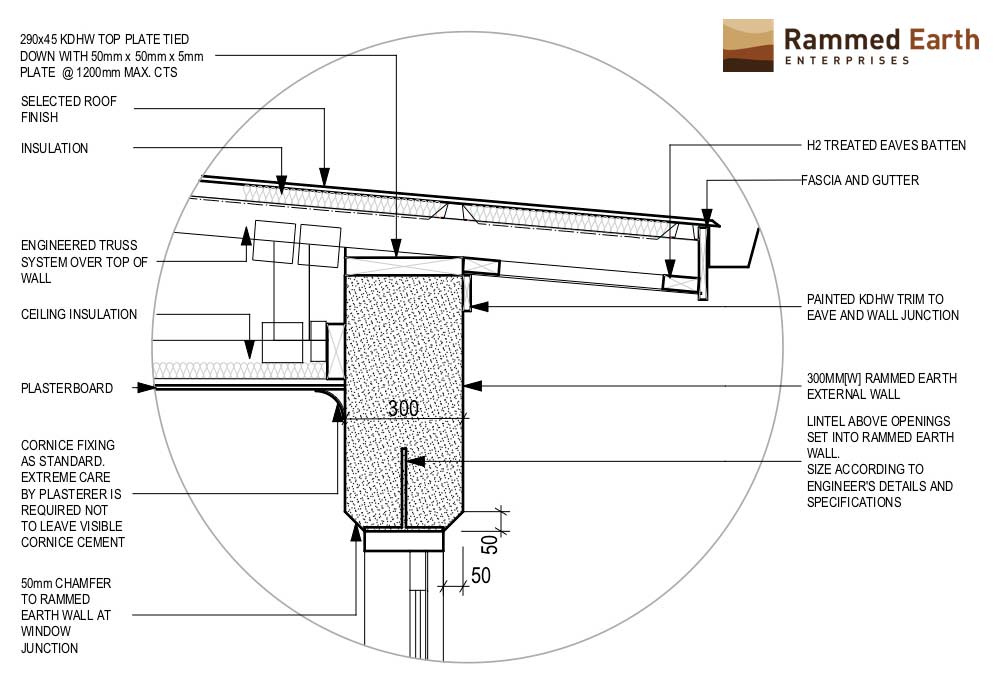 Fixing Details
Skirting: Construction adhesive and 40mm fixing brads are used
Cornice: As per standard cornice fixing methods. The cornice line should be taped prior to installation.
Note. Extreme care is required from the plasterers to ensure cornice cement is not transferred to the visible wall area.
Control/Articulation Joints
Maximum span between control/articulation joints is 4500mm. See Diagram below for information regarding control joint detail.
Permeability Information
Our rammed earth walls incorporate a waterproofing additive. We combine this with the raw materials during the mixing process, this ensures the walls are waterproof. However, a 75mm exposed slab edge should be maintained above finished paving/garden level to protect against moisture ingress (rising damp) into the walls.

A clear solvent based acrylic polymer sealer is applied to all walls for finishing. This seals the walls while maintaining vapour transfer in and out of the rammed earth.
Fire rating
Rammed earth walls are suitable for construction as an external wall up to BAL FZ and have a four-hour fire rating.
Refer to BAL Australian Standards (AS 3959) Construction of buildings in bushfire-prone areas.
Energy Efficiency, Thermal insulation/thermal bridging
There are two methods to ensure rammed earth walls meet the energy standards required to obtain a building permit.
1. Standard Energy Rating System
300mm walls uninsulated R0.7: utilised for any load-bearing internal walls, external walls of a non-habitable room or landscaping walls.
400mm walls insulated R2.5: utilised for any external load-bearing walls.
450mm walls insulated R3.5: utilised for any external load-bearing walls.
2. Performance Solution Report
300mm rammed earth walls (internal load bearing, internal non-load bearing, external load bearing or landscaping etc.)
Australian Standards
We construct our walls in accordance with all relevant Australian Standards.
Our walls also comply with best practice guidelines in Standards Australia International (2001) The Australian Earth Building Handbook HB195.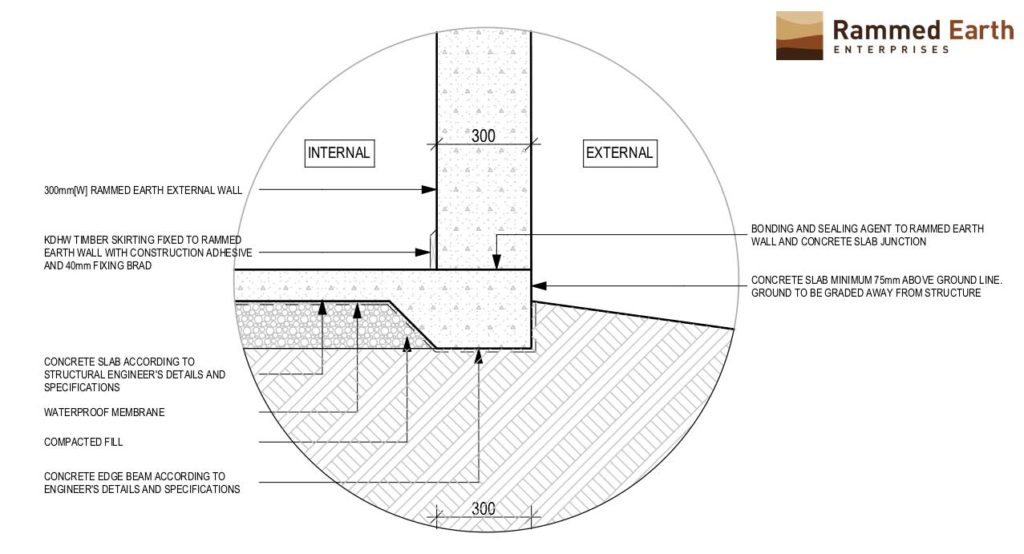 About Rammed Earth
Rammed earth is a highly sustainable wall medium. Rammed Earth is architecturally unique, with high thermal properties and aesthetic appeal.
There is great versatility when it comes to designing with Rammed Earth.
We can build:
Stabilised rammed earth
Insulated rammed earth
Internal thermal mass walls
Curved walls
Portholes and Niches
Landscaping walls
Fireplace feature walls
Raked walls – straight and curved
A variety of wall tone options
Sustainable Benefits
Rammed earth's sustainable benefits may be of interest to your clients:
Thermal Mass
Thermal Mass is the ability for the walls to absorb, store and release heat. When combined with efficient solar passive design, it can moderate the internal temperatures of a building.
In Summer, exposed thermal mass absorbs temperature gains through the day. This can be from external heat, the occupants and any electrical lighting/equipment. The mass releases stored cool while absorbing the heat. This acts to reduce temperature rises within the building. By the end of the day, the building mass has warmed. As external temperatures decrease, the mass can cool down. Through effective ventilation, the walls can absorb the cooler air and release the absorbed heat back out.

In Winter, the thermal mass stores heat from direct sunlight. The mass absorbs warmth from increases in ambient air temperature. Warmth is slowly released when external air temperatures reduce at the end of the day. This helps keep the building warm.
These thermal exchanges increases comfort, and reduces energy costs.
You can read more on the thermal properties of Rammed Earth here.
Insulated Rammed Earth
We can construct thermally broken, insulated external rammed earth walls. We can provide insulation in rammed earth walls of R 2.5 – 3.5. Insulation in rammed earth is required in external walls. Unless a performance solution is being utilised, or the walls are in non-habitable spaces or are landscaping walls.
For more technical information on insulation and rammed earth walls, download the technical data PDF above.
Embodied Energy
Rammed Earth has sustained longevity. It also requires less embodied energy than many other wall mediums. The same amount of embodied energy that produces 1m2 of fired bricks produces 300m2 of Rammed Earth.
Benefits
There are a great number of benefits to rammed earth, including:
Visually unique; with contemporary natural textures and tones
Environmental, Health and Financial
Excellent soundproofing
Acoustic properties
Load bearing
Termite resistance
Fire rating up to 4 hours (see technical information PDF above for more information on Rammed Earth and fire ratings)
You can read more information about each of these benefits here.
You can use Rammed Earth for
Rammed earth walls are perfect for internal, external, landscaping and feature walls.
Quoting on plans
To receive your quote back as soon as possible, it is important that plans include:
Fully dimensioned floor plan scaled at 1:100
Elevations, including wall heights
Sectional drawings
Electrical layouts
Sizes of doors and windows designed in the Rammed Earth Walls (if any)
Any other structural details or important information about the Rammed Earth walls