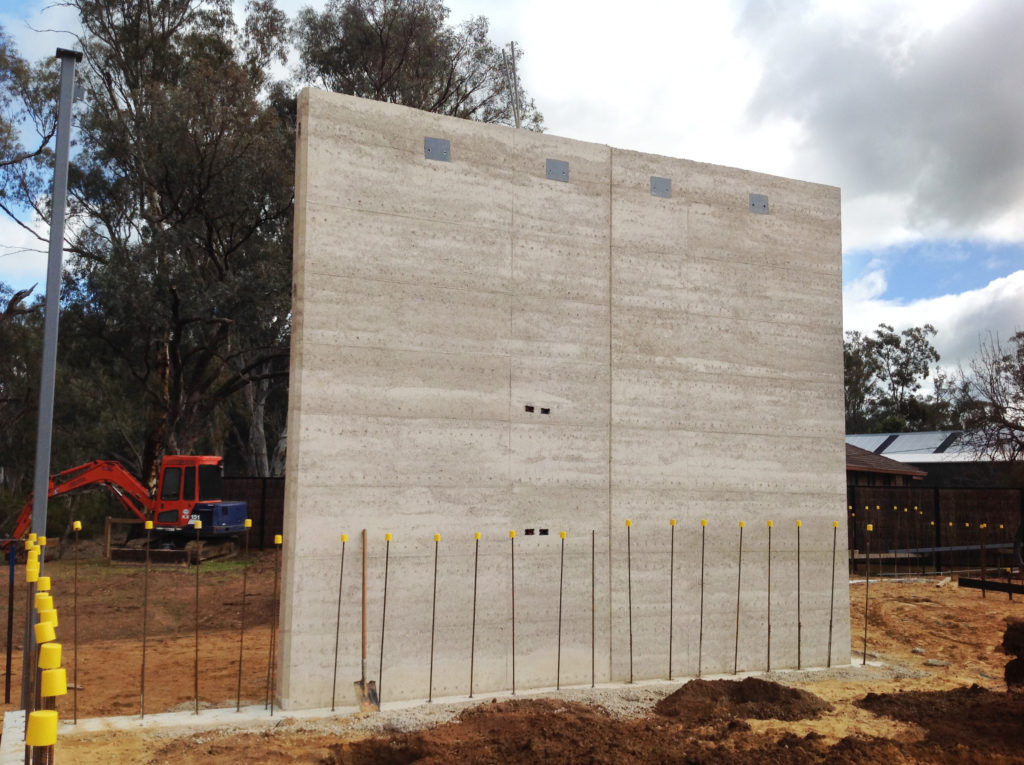 About This Rammed Earth Project
This is one of our rammed earth construction projects completed in August 2019. It was an owner builder project for a home in Echuca.
The walls in this project ranged from 3.6m to 5.2m in height. We used a different coloured soil and cement to our typical colour. This achieved the clients desired contemporary cooler toned grey wall colour.
While we usually construct our rammed earth in warmer honey tones, we are able to achieve many different colours and tones of wall. Different wall colours can be created by modifying the type and colour of soil; and/or the type and colour of cement used in construction.
This project was unlike our typical builds. The site required we build our rammed earth walls on strip footings. This was because the site had to be built up due to its proximity to the river and the property being in a flood zone.
We have also included increased waterproofing in the lower compaction layers. We chose to do this to further protect the walls against any water damage, should the property flood.
This project is a good example of the versatility of rammed earth as a wall medium. Rammed earth can be used on properties in flood zoning; or properties in high bushfire prone areas.
As you can see from the pictures, this site was tight. There was not much room to manoeuvre equipment, and the ground was quite sandy underfoot. We were very thankful to have our specialised equipment! It enabled us to work on the project with minimal disturbance to the site throughout construction.
Want to learn more about the construction process?
Interested in learning more about rammed earth construction? If you are, check out the blog we wrote on our rammed earth construction process. It covers in detail exactly how we build our rammed earth walls.